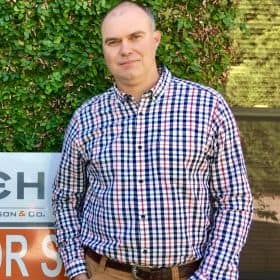 When I was two years old my parents moved to Dublin, TX where my dad was the pastor of a small country church between Dublin and Stephenville. It was a great place to grow up and be a kid, I shot birds with my Benjamin pellet gun, played constantly outside and loved riding my bike up and down the country roads.
My dad would spend almost thirty years preaching at that church and I think he stayed so long partly because he had the keys to some of the best fishing and hunting spots in Erath County. Growing up, I spent time working on a ranch not far from my house. It was hot and the work was hard, but I got to work with a great old rancher who taught me some lessons I'll never forget. Every kid should stare down a half-mile of pipe fence with a painter's mitt on a three digit day in July before going off to college.
I landed at Baylor in 1996 and it was something akin to when the Tull family moved from Tennessee to Beverly. I managed to get out of there with a degree in 2000 and land my first job in Fort Worth with American Express Financial Advisors where I worked for two years. While in the DFW area I met Kristi Boydston who I would marry in 2003 and now have two kids Fischer (8) and Eli (4) with.
The city proved a bit big and I moved back to Waco and enrolled in seminary for a while with thoughts of following my father into the ministry. I would eventually earn a Master's degree and in 2007 would open an outdoor sporting goods store in Waco called Bear Mountain. One of the true highlights of my career would come in 2014 when I was invited to teach at Baylor in the Hankamer School of Business as an adjunct professor. I taught part time for two years and had a great experience.
With my retail business running well my friend Ron Henderson and I began brainstorming in the spring of 2016 about the possibility of expanding the brokerage component of his business. He gave me his approval to get my license and join him and I'm thankful for the opportunity.
Ron and I have complimentary skills but the same values and I think this is what makes us a great team. We are both users of land so we tend to see it through our own experiences. Some of my greatest times have been spent with friends and family out in the country working and recreating. Whether you are buying or selling, land creates opportunity in a way that is personal.
Land tells a story. I look forward to hearing yours.